The Benefits Of Digital Marketing For Small Businesses
Statistically, global digital advertising spending reached $549 billion in 2022 globally,  $220 billion in the US alone.  This means that digital marketing is a must-have tool for all business owners that want to improve their revenue. Whether you have a small business or you are the owner of a big company, you simply can't do without digital marketing tools today. Just look around and you'll see that digital technology has changed the world we live in. The way businesses operate has also changed. All techniques that were used 5-10 years ago don't work anymore. This industry is dynamic and rapidly changing. If you want to make the most out of your digital ads, you have to follow the latest trends in this niche.
Today, digital marketing plays an important role in running your online business. If a company wants to increase sales and overall growth, it simply can't do without powerful and effective digital marketing campaigns.
In this comprehensive post, we'll look closer at all the benefits of small business digital marketing. We'll define the meaning of this term, the importance of digital marketing, and the main reasons why you need to opt for it. Get comfortable and have a look!
What Is Digital Marketing?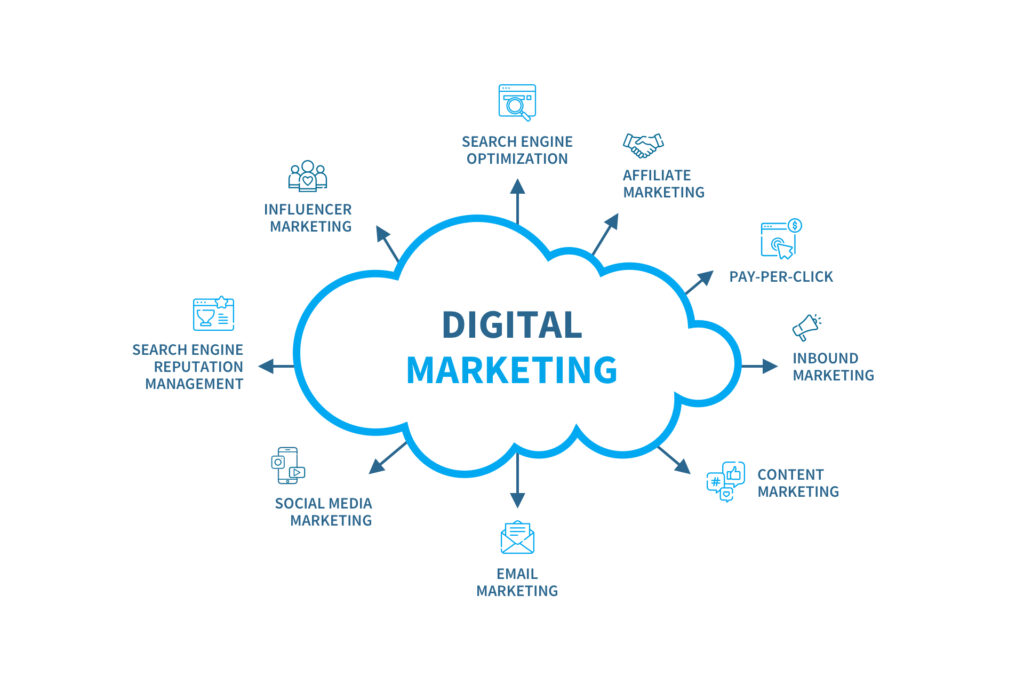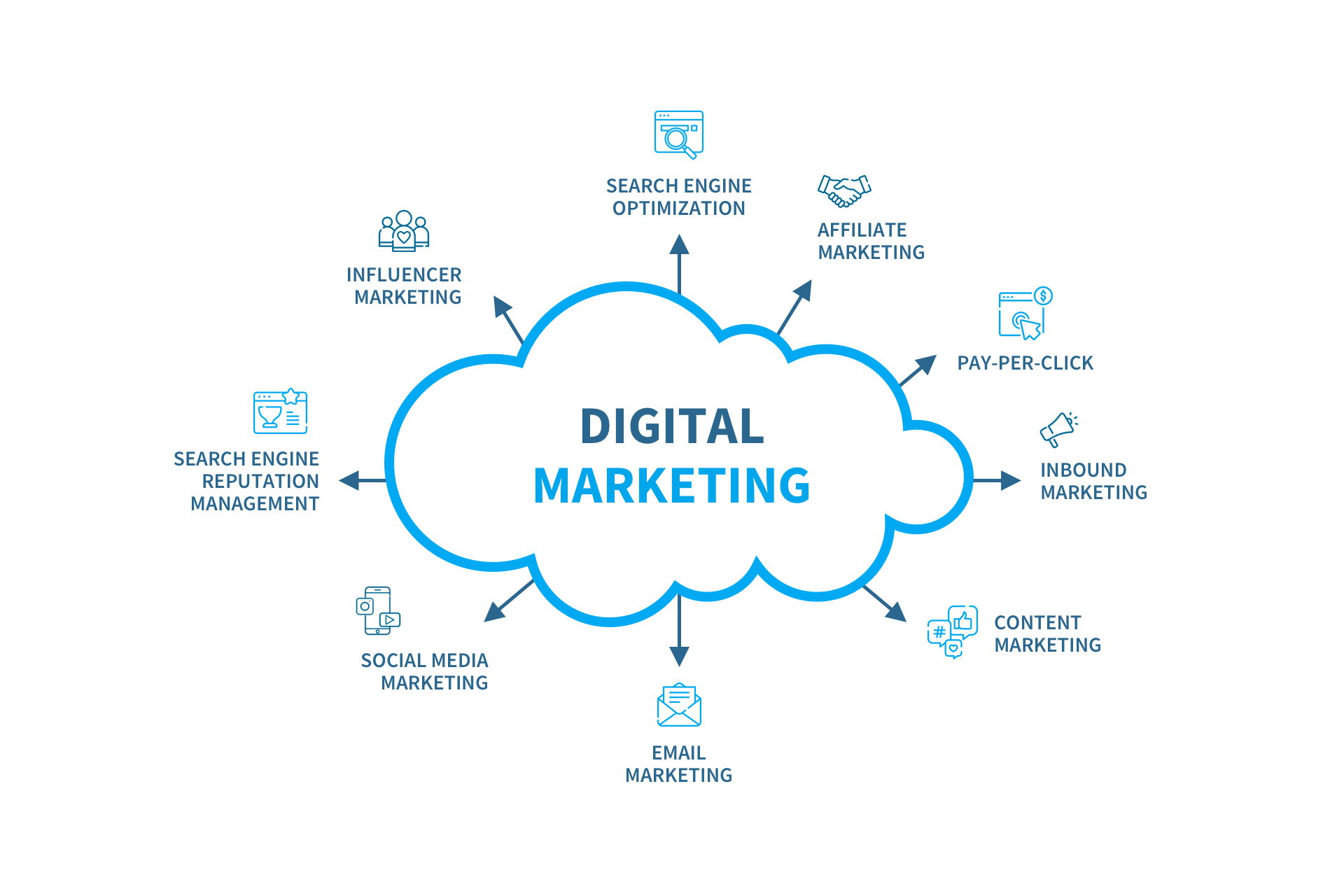 Let's begin with the basics and define what digital marketing for small businesses is. It's a kind of art that allows you to attract new visitors and convert them into real customers that will buy your products or services. This marketing form is based on electronic devices—modern users are contingent on their smartphones, tablets, wearables, TVs, laptops, and computers, and the only way to reach your targeted audience is to use these devices. 
Small business internet marketing uses different strategies to find potential customers. Simply put, it's the type of marketing that is done on the web. Here are the most effective and popular methods that are used in this area:
Search engine optimization
Affiliate marketing
Pay-per-click
Inbound marketing
Content marketing
Email marketing
Social media marketing
Search engine reputation management
Influencer marketing
And it's up to you to decide which digital channel to use to develop your brand awareness. You can use either one channel or opt for a few of them. The performance of all these methods is measurable and powerful.
Whether you have a small local business or you are a CEO of a big enterprise, your business will undoubtedly benefit from digital marketing strategies. Experts say that small business digital marketing can influence people's habits, interactions, and lifestyles. Let's see how this happens:
With the rapidly growing accessibility of the internet, the number of users going online is also growing. So far, we have 4,66 billion active internet users and 92% of them access the internet via mobile devices. The vast majority of these users can be your potential clients.
81% of people use their smartphones to search online before they make a decision to buy a product or service.
50% of users prefer a particular brand if its name appears more than once during their online search.
These figures prove that the influence of digital marketing is rapidly growing, and so far, it's a must-have tool for running your business online!
How Digital Marketing Helps Small Businesses
So, you have a small local shop where you sell unique handmade items, but why do you need digital marketing? What are the benefits of this investment? 
First, you have to remember that digital marketing includes a few tactics to connect your brand with your potential customers. And if you run a small business, it's a challenge to understand how to make it work for you. However, you can easily tackle that challenge by hiring a professional marketer or an outsourcing company that can help you build the right marketing strategy.
Nevertheless, it's one of the most effective ways for a small company to reach out to clients. It's the only method that allows you to come into the spotlight as the best company that sells things or services. With the help of digital marketing, you can build trust among your audience, get more customers, improve ROI, and make your business grow!
Benefits of Digital Marketing for Small Businesses 
Gradually, we are moving to the most interesting section of our review—what are the main benefits of digital marketing for small companies? Why should you invest in these digital tools? Let's review the main reasons that might persuade you to opt for this powerful tool for your business. 
Provide Equal Opportunities for Everyone
It doesn't matter what the size of your company is. Digital marketing for SMB is available for everyone. It's not something that you can't reach, even if your budget is limited. Even a small business can easily reach its target audience through the use of various strategies. Digital marketing is the space where everyone is equal. This is where small businesses can compete with big companies by leveraging various marketing tools and strategies. The selection of digital marketing tools is huge, so you can choose the one that suits your business needs—and most of all, your budget.
Target the Right Audience
As we have already mentioned, the internet has over 4 billion users, and most of them use their smartphones. So far, every single social media platform is a huge pool of potential clients that might be interested in your products or services. You just need to find them with the help of catchy online ads and the right marketing strategy.
To get the right audience, you can use the following targeting tools:
Google ads
Facebook custom audiences and retargeting
LinkedIn for keyword research
Search Engine Optimization
Cost-efficient
A few years ago, business owners used printed flyers, rented billboards, or placed banners to let people know about their business. However, this costs a lot. Some business owners use these strategies even today, especially in small towns. Nevertheless, the main downside of this technique is that it's impossible to measure its effectiveness.
Even today, it is more effective and cheaper to invest in a digital marketing campaign instead of printing advertising flyers. If you want to get the most out of your campaign, you have to opt for the services of professional marketers or a trusted digital agency. Don't deal with amateurs that lack experience in this area.
Overall, thanks to a massive collection of digital marketing tools and fantastic opportunities provided by them, business owners can quickly measure the effectiveness of ads, make changes, stop ineffective campaigns, and invest more in online ads that work well.
Build Brand Recognition
Another reason to choose online marketing for a small business is brand recognition. It allows you to introduce your products or services to people. In doing so, they will learn more about your company, concept, products, or services that you sell. It will help them remember your logo and brand, and next time, when a user sees the logo of your company, he or she is more likely to interact with your brand. Simply put, digital marketing tools enable people to connect emotionally with your company. 
Provide You With Exposure
If you want to get more customers, you need to remember that online visibility is of utmost importance—especially today, when the market is overloaded with competitors. If you have a small company, digital marketing tools allow you to build your own exposure space on your platform and concentrate on your potential clients online.
Increase Revenue
Surely, the services of digital marketers aren't cheap. However, the main reason why business owners need to opt for digital marketing campaigns is the opportunity to get more conversions. The higher conversion rates, the better your revenue. Business owners that opt for digital marketing tools get more revenue compared to other companies that don't use social media marketing. A combination of various marketing strategies allows you to create a better response and as a result, increase your revenue.
Give Measurable Results
Remember that the performance of each marketing channel is measurable and therefore you can easily evaluate the effectiveness of your campaign across each of them. After your advertising campaign is launched, you can easily check out the results and evaluate its performance. If it's poor, you can switch this ad off. You'll see what products or services are appreciated by your audience and which of them are less popular.
Getting Started on Digital Marketing for Small Businesses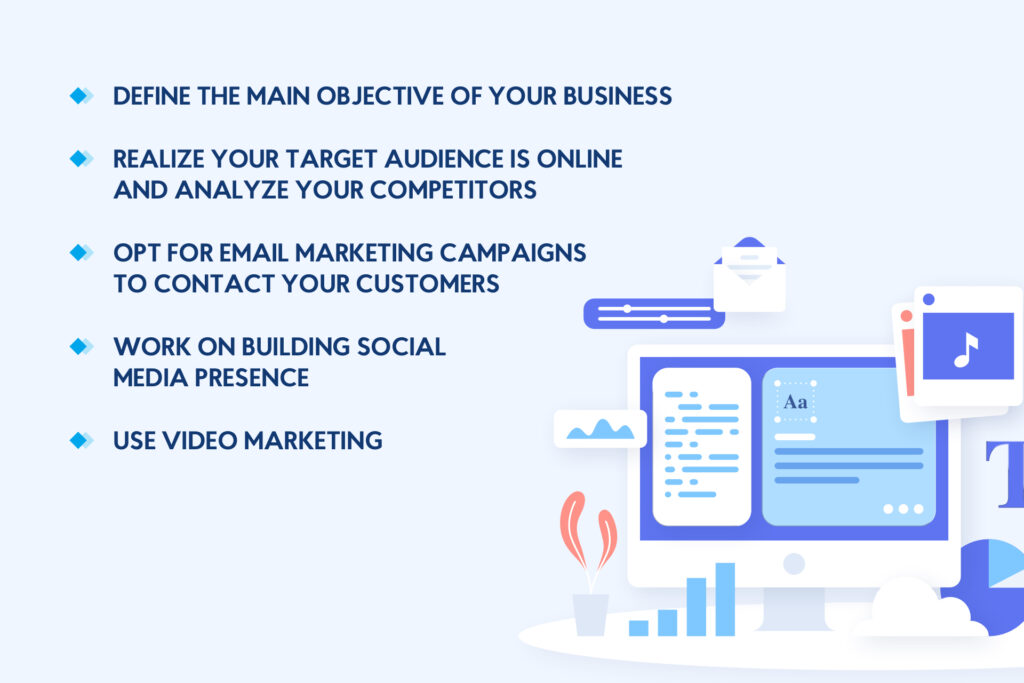 So, how do you get started? How do you run the most effective ads that will surely bring income? Of course, the fastest and most effective solution is to hire a digital marketing agency for small businesses. In doing so, you'll entrust this task to professionals in this area and save a lot of your personal time. 
However, you need to make sense of it all yourself. In other words, if you want to get the most out of your campaign, you should know how it works.
There's no need to delay building your online presence. Here are the main directions on how to get started:
Define the Main Objective of your Business
Before running a marketing campaign or using digital marketing services for small business, you need to define the main objective of this campaign. Think about what goals you wish to achieve and how you will convert leads, improve web traffic, enhance brand awareness, get more qualified leads, etc.
Realize Your Target Audience Is Online and Analyze Your Competitors
If you want to make your business grow, your first and foremost task is to research online and find out more about your competitors. Check out what people say about you and your competitors. This information will help you learn more about the marketing strategy used by your competitors. This is where you may borrow some ideas.
To get started, you need to create social media accounts for your company. First off, before people buy anything, they go online to check the account of a chosen company. Secondly, social media is a mandatory component of any digital marketing strategy.
Opt for Email Marketing Campaigns to Contact Your Customers
Although some marketers say that email marketing is not as effective as other channels, small businesses can use this tool to get personal connections with their users. It is easier to personalize or customize your email as in this case as you communicate directly with your targeted audience.
Use Video Marketing
Catchy videos are usually more effective than informative posts on Facebook or Instagram. In a simple one-minute video, you can quickly show your message. The videos may be funny or informative. Although it takes time to create an engaging video, the result is surely worth it.
Conclusion
Well, it's time to wrap up what has been said. We hope that now you understand why digital marketing is important for small businesses and are ready to implement effective marketing campaigns for your business goals. You see that it can help boost ROI, target the right audience, get measurable results, get quality leads, build brand awareness, and, of course, save you money. So, entrust this task to a time-proven digital marketing company for small businesses with many years of combined experience under their belts. This is where Inside Line Marketing can give you the edge. We'll help you implement advanced digital techniques to improve ROI and outsell your competitors!
If you would like a free discovery call to discuss your needs and options, please reach out to us. 
In the competitive landscape of startups, a well-crafted lead generation funnel can be a game-changer. It serves as a roadmap for attracting, nurturing, and converting
Read More »